Pregnant Keyshia Cole Gives Gifts To Foster Children in Oakland (Photos)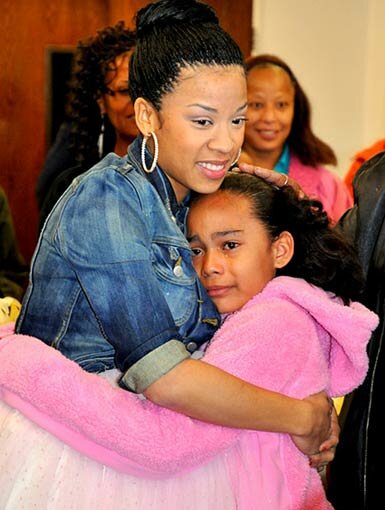 R&B singer Keyshia Cole, who is stated to be pregnant with her first child pregnancy has been silent with the world. Keyshia Cole was seen around Christmas looking oh so motherly while with a group of foster children in her hometown of Oakland, CA and with her adoptive mother Yvonne Cole.

The singer delivered gifts to some excited children at ActsFullGospel Church and also posed for pictures taken by Ozone Magazine's D-Ray.
Keyshia Cole was first rumored to be pregnant after she appeared to have a baby bump a few months ago while at a function. Currently the singer is dating Cleveland Cavaliers NBA player Daniel Gibson aka Boobie, whom she began dating earlier this year. According to reports, Keyshia Cole is due to give birth in March 2010.
In 2008, it was rumored that Keyshia Cole was pregnant with the child of rapper and former boyfriend Young Jeezy. The rapper was stated to have allegedly been going around telling everyone that they were having a child together. The singer later had the rumor cleared up.
Check out photos of pregnant Keyshia Cole hanging out with foster children in Oakland, CA.