Monkey Pee Pees On Kim Kardashian and Poops On Ashton Kutcher (Photos)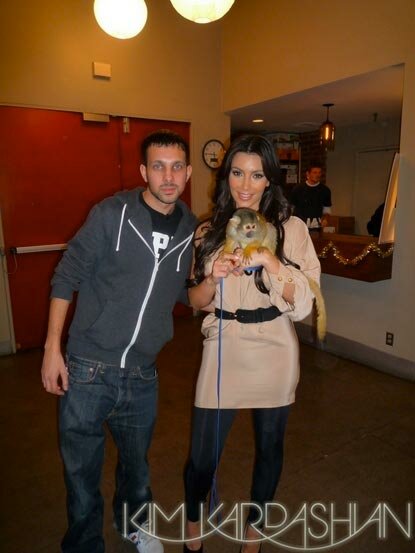 Celebrity socialite and E! reality television star Kim Kardashian of 'Keeping Up With The Kardashians' had a cute little monkey to pee-pee on her. The incident happened according to Kim Kardashian after she stopped by Katalyst while her good friend Ashton Kutcher was filming.

"They had this little monkey that the magician, Dynamo, made appear! I thought he was really cute at first, but then he peed on me!!," says Kim Kardashian.
As for actor and producer Ashton Kutcher, he wasn't so lucky with the monkey as well — the monkey took a dump on him.
"Ashton said the monkey had pooped on him, so I didn't feel too bad, haha. Gross little monkey! This magician was amazing, though. He did the craziest card tricks!," added Kim Kardashian.
Check a few photos of Kim Kardashian and the cute little monkey who had mistaken her and Ashton Kutcher for the potty.