Hip-Hop Producer Timbaland On-Set Photos From New Single With Katy Perry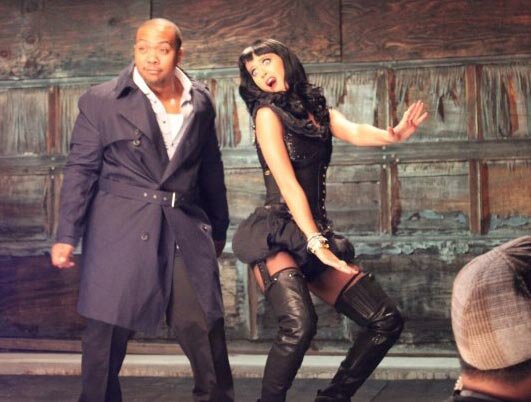 On-set photos were released from Timbaland's latest single 'If We Ever Meet Again' music video shoot featuring Katy Perry.
In a collection of photos which were released online, a buffed Timberland and sexy Katy Perry in thigh-high black boots can be seen singing and dancing in the reported Paul 'Coy' Allen directed video.

The song which comes from off music producer/rapper Timbaland's album "Shock Value II" released December 8th in the US, is the fourth single to be released. 'If We Ever Meet Again' follows being the singles "Morning After Dark", featuring SoShy and Nelly Furtado, "Say Something" featuring rapper Drake and "Carry Out" featuring Justin Timberlake.
The music video isn't the first video recorded for a single off of Timbaland's Shock Value II. Paul "Coy" Allen also directed Timbaland's "Morning After Dark" and "Say Something" videos.
Currently those is no expected release date for the music video "If We Ever Meet Again." According to Timbaland, the song was inspired by Black Eyed Peas' Will.I.Am's work on "I Gotta Feeling."
Timbaland ft. Katy Perry – If We Ever Meet Again