Singer Robin Thicke and Pregnant Actress Paula Patton Expecting A Baby Boy!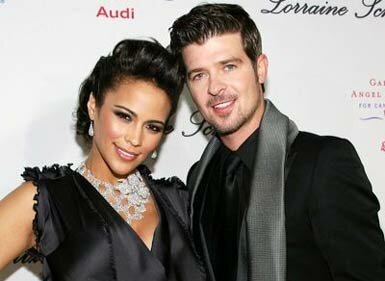 R&B soul singer Robin Thicke and pregnant wife actress Paula Patton reveal that they are expecting a baby boy.
Paula Patton who stars in the award-winning movie "Precious" based on the Novel 'Push' by Sapphire along with Gabourey Sidibe, Mo'Nique and Lenny Kravitz, along with her husband Robin Thicke revealed the news to Essence and told the magazine that he's already thinking about life lessons that he'll be teaching his son as well as how to respect women, music, and more.

Robin Thicke, 32, and Paula Patton, 33 will be first-time parents and according to Thicke he has a few jitters to get over.
Thicke states he's afraid of not being patient enough, but most of the time that's when he's scared or worried about the future.
"I want to work on that. But my biggest fear is being able to be there, because I don't know if kids ever think their parents were there enough," stated Thicke.
According to reports, the couple are expecting their baby boy in May of 2010.
Meanwhile, the singer's fourth studio album "Sex Therapy" released last week, December 15, 2009 on Pharrell Williams and Chad Hugo's label, Star Trak Entertainment. The album "Sex Therapy" sold 120,018 records on its first week. According to Robin Thicke in a past interview, his wife and soul-mate Paula Patton who he met in his teens was the inspiration behind the release of the album.