Jaimee Grubbs Has Evidence of Her Affair With Tiger Woods (Photos)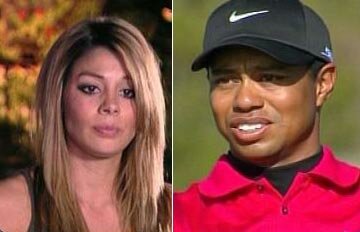 Following reports of famed golfer Tiger Wood's accident over the weekend which allegedly sparked from him cheating on his wife with Rachel Uchitel, it seems that now a reality TV contestant has surfaced with new claims that she had a little fling with Woods also over the course of 30 plus months and she allegedly has evidence!

Reality TV contestant Jaimee Grubbs, a cocktail waitress who appeared on the VH1 reality television show "Tool Academy" allegedly has incontestable evidence which includes photos, hundreds of text messages from Tiger and a compromising voicemail which could possibly end his marriage.
Reports say that Jaimee Grubbs had a 31-month affair with over 20 sexual encounters with Tiger Woods. The supposed affair began in April of 2007 in Las Vegas but nothing has been seen visibly as of yet.
Meanwhile, Tiger Woods is off the hook for his alleged domestic dispute with wifey Elin Nordegren and was only given a $164 fine, 4 points off his driving records and the investigation closed. Tiger Woods wife supposedly came at him with a golf club possibly causing his car wreck, as reported on HipHopRX.com.