Whoa! 50 Cent Holding Rick Ross' Son with Floyd Mayweather Jr. In Tow (Photos)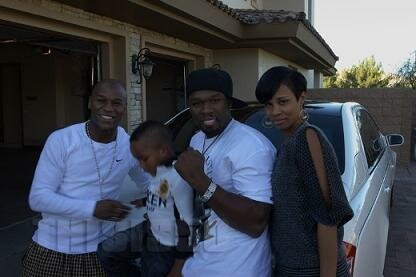 50 Cent takes the beef between him and Rick Ross to the extreme by taking photos of him holding Ross' son.
Willie, Rick Ross' youngest boy is seen in these photos with 50 Cent, Floyd Mayweather Jr. and Ross' baby momma Tia and guess where they are at? Mayweather's mansion in Vegas!!

The 'Family' headed out to Floyd Mayweather Jr's home in Las Vegas NV. to watch the Manny Pacquiao and Miguel Cotto fight on Saturday. You already know 50 saw this as the perfect opportunity to take a stab at Rick Ross that he may not recover from. This is the ultimate blow to Rick Ross! More worse than Cotto getting knocked out by Pacquiao!
50 Cent At Floyd Mayweather's Big Boy Mansion with Rick Ross' son, Tia and Diddy in Las Vegas