Kim Kardashian Gets Black Eye In Fight; Khloe Would Rather Go Naked (Photos)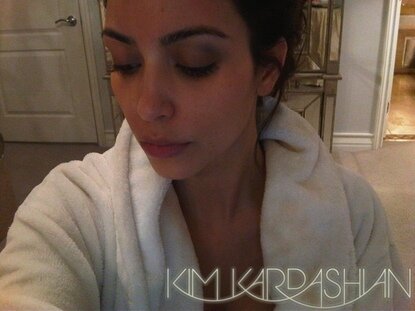 Kim Kardashian and her brother Rob Kardashian stepped in the ring this past week as part of the Kardashian Charity Knock Out event held in Los Angeles, but both ended up getting whooped by their boxing opponents!

At a charity event, Kim Kardashian hopped in the ring going blow for blow with a fan who had to bid at charitybuzz.com for a chance to go a few rounds, and ended up with a black eye!
"The event itself was absolutely insane!! We literally had three days of training to prepare for the event and thought it would be a little bit of fun to raise money for one of our favorite charities, The Dream Foundation. We didn't expect what happened. I didn't want to let the charity down, so I decided to get in the ring. My girl was a good sport, but she was tough! I knew I had to do it for charity, since that's what it was all about, but man, my girl could throw a punch! Look at my black eye!!!", Kim posted on her blog.
Kim's brother Rob on the other hand went a few rounds and ended up in the hospital with a concussion. Mean ole Khloe backed out of her scheduled bout fearing the worst! All in the name of charity. Khloe would rather go naked than fight!!!