Hip Hop Artist Travis McCoy and MTV Journey For Staying Alive HIV/AIDS Campaign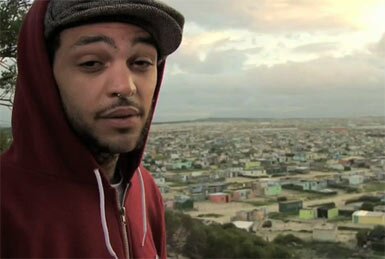 MTV Networks 'Staying Alive' global HIV and AIDS prevention and awareness campaign produces a new TV documentary which will premiere Gym Class Hero's Travis McCoy's 'Unbeaten Track' [www.theunbeatentrack.com].
The documentary will show how young people in South Africa, the Philippines and India are joining in the fight against the spread of HIV in their communities.

The special will air on 64 channels of MTV's global networks on December 1, 2009, which is World AIDS Day. The airing will reach out to more than 632 million households and will be rights and cost free to broadcasters globally.
In addition to the "Unbeaten Track," Travis McCoy has also created the single "One At A Time" which is stated to be based on his life experiences and will be made available via iTunes digitally. The song "One At A Time" will be released December 1st with all proceeds going to "The Staying Alive Foundation."
Travis McCoy who is an Ambassador for the Staying Alive Foundation took time out his schedule and traveled with MTV film crew to South Africa, the Philippines and India inorder to bring awareness, promote prevention of HIV and AIDS and more.
On the program you'll have the opportunity to see Travis McCoy visit Cape Town, Manila and Mumbai as he works with a number grassroots youth-led HIV prevention projects which are all supported by "The Staying Alive Foundation." McCoy will take you on a journey as he experiences and sees first-hand the effects and the triumphs of the communities he visits which are doing what they can to overcome the HIV/AIDS epidemic.
The hour-long special which was directed by James Barnes on a tapeless HD Sony EX-1s, with stills and promo shots captured on a Canon EOS 5D Mark II, airs December 1st, 2009.