Soulja Boy and Rosa Acosta Engagement Rumors: New Details + Photos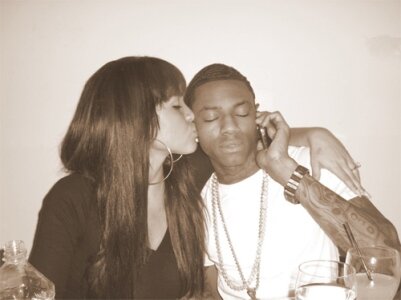 As rumors continue to circulate that rapper Soulja Boy is engaged to model Rosa Acosta, sources from both of their camps have denied that it is true.

Acosta's manager, Charles Garner, has stated in a statement that the two hung out and was seen in photos together on Rosa Acosta's website in some behind the scene photos and due to Rosa Acosta wearing a new diamond ring that looks like an engagement ring, many speculated that the two were engaged. Reportedly, the ring that Rosa Acosta was seen wearing was a gift from the model's mother from around 3-4 years ago.
Charles Garner goes on to state that Acosta is still single and was in Los Angeles filming for a Chris Brown video which features Lil Wayne and Swizz Beatz and her friend Soulja Boy happened to be in L.A. at that time also. Soulja Boy is stated to have asked Rosa Acosta and four other girls (models) out to dinner which is where the photos took place.
Seems that Soulja Boy hugged and kissed up on all the girls, but his cheek kissing moment with Rosa Acosta grabbed everyone's attention.