Jamie Foxx Speaks On Nude Photo Scandal On Conan O'Brien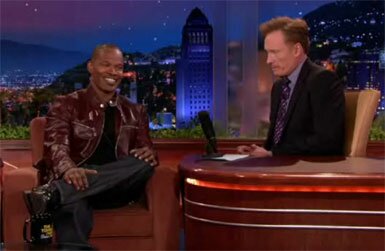 Jamie Foxx confirms his nude photo scandal which leaked showing the singer and actor naked wearing only but a do-rag, as reported on HipHopRX.com back in August.

Jamie Foxx who appeared on "The Tonight Show with Conan O'Brien" on Monday, October 12th, made his way to the show to promote his new movie "Law Abiding Citizen" and happened to be asked about if the nude photo of him that was leaked was real or fake which of course Conan O'Brien displayed on-screen with his privates blotched out.
With an embarrassed look on his face, Jamie Foxx confirmed that it was indeed him and went into an explanation as to why he posed and took the picture.
"What had happen was that we were doing Miami Vice and I had a nude scene in Miami Vice… so my makeup artist wanted to see the before and after. Meaning like my body wasn't in shape than when I got to that point…" stated Jamie Foxx.
The singer goes on to state that some how the photo of him got out during the transferring, and that he apologized to his family for it. Jamie Foxx didn't forget to mention that he's had some good things and bad things come from it like the women going crazy and of course his followers with an alternative lifestyle has seemed to have picked up.
"Law Abiding Citizen" opens in theaters on Friday, October 16, 2009.