Lil' Mama Pulls a Kanye West at VMA's, Interrupts Jay-Z, Alicia Keys!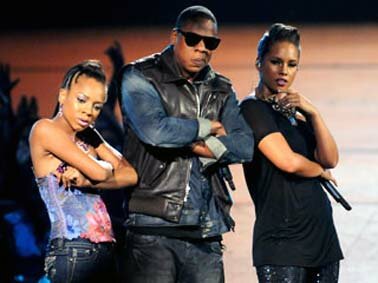 Lil' Mama, one of the judges on MTV's America's Best Dance Crew, pulls one of Kanye West's stage crashing moves as she crashes a performance by rapper Jay-Z and singer Alicia Keys.

If you missed that exciting moment, here's another clip of some disturbing footage of the MTV VMA's (Video Music Awards) on Sunday night.
Rapper Lil' Mama walked on stage towards the end of Jay-Z and Alicia Keys performing "Empire State of Mind" and you can see Lil' Mama strutting around looking like she's part of the performance. She probably, deep in her own mind, thought she belonged up there with Hova and Keys.
As you watch the clip, look at Jay-Z's expression like "Where the hell is security!" If you missed Kanye West's moment check it out.
Video: Lil Mama Crashes Jay-Z and Alicia Keys' Performance at VMA