Lil Mama Explains Her Kanye West Moment During Jay-Z VMA's Performance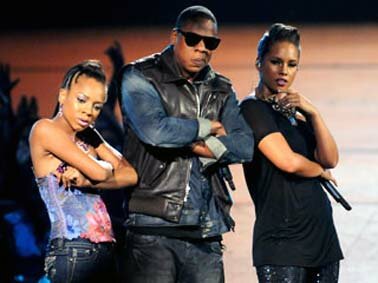 Lil Mama claims she mean't no "disrespect" towards Jay-Z or Alicia Keys when she crashed on stage during their performance at the MTV Video Music Awards (VMA's).

As reported on HipHopRX.com, Lil Mama took to the stage during Jay-Z and Alicia Keys' live performance of the song "Empire State of Mind" much like Kanye West — unannounced — when he interrupted Taylor Swift's moment during her acceptance speech for Best Female Video for her video "You Belong With Me" which Kanye West didn't agree with Taylor winning.
Well now probably after realizing what she had done, Lil Mama has apologized for her stage crash much like Kanye West's apology for his also — except Lil Mama's reason was not because she didn't agree but more that she agreed with everything that Jay-Z and Alicia Keys were representing — New York.
"Empire State of Mind' had my emotions running high," stated Lil Mama in her statement. "In that moment I came up on stage to celebrate my two icons singing about NY."
Reps for Lil Mama say that the rapper may have more to say later but maybe that sums it up as you can see from the pose that Lil Mama struck on stage she definitely had the look of "damn, we representing" right now.
Developing….