Lauren London Gives Birth, Lil Wayne's Baby Resembles Mama?! (Photos)
According to reports, Lauren London has given birth to a 7lbs, 12 ounces, 21 inches long bouncing baby boy by rapper Lil Wayne, with the rapper present during the birth.

Without any confirmation this is still hearsay however the newborn child supposedly named Lennox Samuel Ari Carter, reportedly looks more like mama Lauren London than daddy Lil Wayne, but is definitely a reported 'cute baby.'
Despite multiple different stories and rumors flying haywire throughout this year, the two Lil Wayne and Lauren London, who were rumored to be having a baby together back around April/May as covered on HipHopRX.com, are ok with their relationship and reportedly looking forward to raising 'baby Carter' with no animosity between each other.
'Baby Carter' was reportedly birth over the weekend, but that too is still hearsay.
In related news, Lil Wayne also has another baby on the way by R&B singer Nivea as well, whom the rapper reportedly dated before as well, as reported on HipHopRX.com.
Developing….
Photo of pregnant Lauren London taken at Diddy All White Party – July 4th, 2009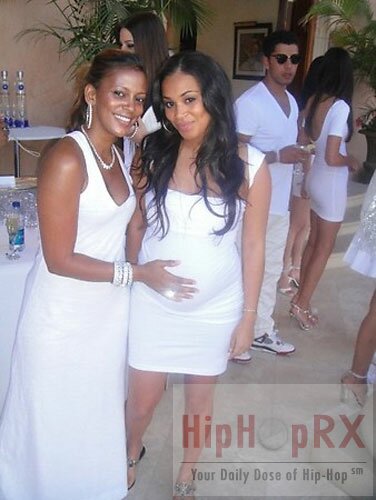 Lauren London, Lil Wayne reported baby mama, model picture in pink bikini

Photo – Pregnant Tisha Campbell Martin, Jennifer Freeman, Lauren London at Baby Shower