Actress Kerry Washington New Pictures In Sexy See-Through (Photos)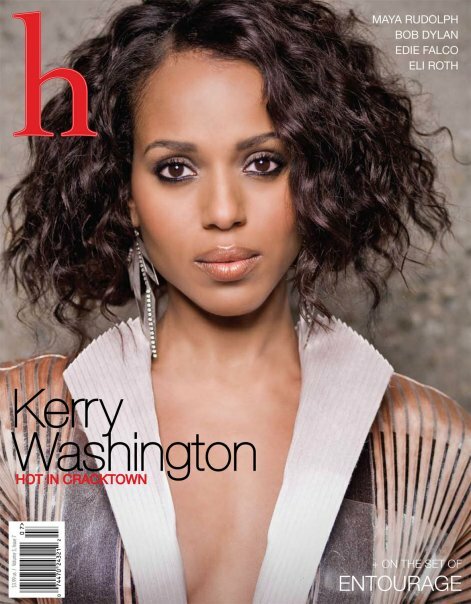 Actress Kerry Washington, most known for the role of Ray Charles' wife Della Bea Robinson in the film "Ray" starring Jamie Foxx and as well as Kay Amin in "The Last King of Scotland," exposed herself in an issue of H magazine.

In the past issue of H Magazine, the celebrity actress can be seen in one photo showing off her nipples in a see-thru lace top by L'wren Scott, black lace gloves by Chanel and shoes by Christian Louboutin.
In another photo, Kerry Washington is sporting a body suit by AU79, boots by Chloe, Vintage Necklace by V VIntage Boutique while in another she's wearing black pant by Balenciaga, a black vest by Rick Owens and boots by Brian Atwood.
In her feature with the magazine, Kerry Washington talks about playing the part of Marybeth, a pre-op transsexual drug-addict prostitute in the new film "Life Is Hot in Cracktown" which opened limited in June; and she also spoke about working with a transwoman to help her capture those moments and what happens in the trans community and more.
"I actually worked with an amazing transwoman named Valerie Spencer. Valerie is a phenomenal, incredible woman. I spent so much time with her and she really brought me into the trans community, whether it was going to church or just having dinner or hanging out, and she was with me onset a lot."
Kerry Washington's film "Life Is Hot in Cracktown" along with "Night Catches Us" is expected to release nationwide this year. In addition, the actress has an upcoming project in which she will be starring in an upcoming Eddie Murphy comedy, "A Thousand Words and Mother and Child" with Annette Bening and Naomi Watts which does not have an expected release date as of yet.
Meanwhile, check out some of Kerry Washington's sexy photos including her in a sexy see-through outfit. Go here.