Amber Rose's Sexy New Bikini Pictures at TAO Beach Las Vegas (Photos)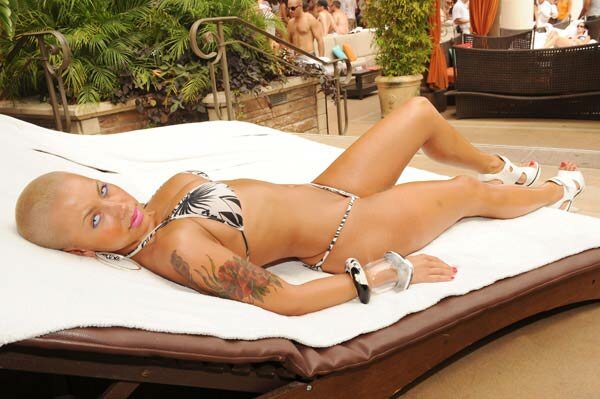 The sexy Amber Rose is back again with some new bikini pictures of herself on the beach in Las Vegas. This time, Amber Rose is not topless, as reported on HipHopRX.com a couple of weeks back, but it doesn't take away from the sexy bikini photos of the new Ford Model and Kanye West's girlfriend known first for her short blonde buzz cut and half-naked Smooth magazine pictures leading up to her relationship with the hip hop music producer Kanye West, but now for her vivid sex appeal that drives the Internet nuts.

Amber Rose was seen wearing ice blue contacts and a two-piece zebra print bikini as she hosted TAO Beach at The Venetian Resort Hotel Casino on Saturday, August 29. In addition, the beauty can be seen laying next to a man poolside with whom some have stated to be her brother Antonio Hewlett.
Check out photos of the hot and sexy Amber Rose hosting TAO Beach in her cute two-piece swimsuit bikini and ice blue contacts.