Kourtney Kardashian, Playboy's Kendra Wilkinson Pose Pregnant (Photos)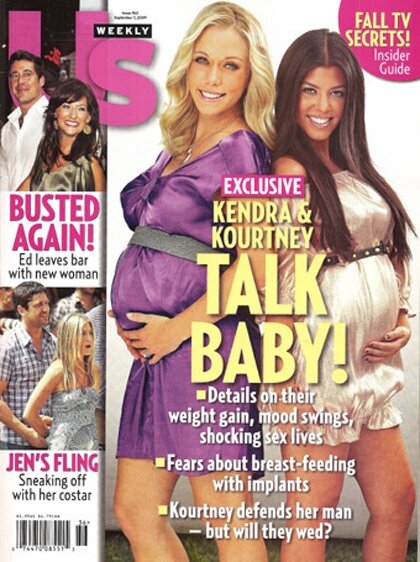 Kourtney Kardashian of "Keeping Up With The Kardashian" and "Kourtney & Khloe Kardashian; Take Miami" and Playboy's Kendra Wilkinson-Baskett formerly of "The Girls Next Door" and her new reality show "Kendra," have both posed together pregnant revealing their baby bumps in a new cover photo shoot.

The sexy Kourtney Kardashian and Kendra Wilkinson did a cover shoot with Us Weekly.
The cover feature will soon reveal details about their weight gain, mood swings, and shocking sex lives. Also fears about breastfeeding with implants will be covered in the feature.
Already, Kourtney has revealed the baby daddy, Scott Disick, and revealed in her feature the fact that she doesn't have any names that she's "crazy" about yet for her child.
Meanwhile, Kendra Wilkinson reveals that before she knew the sex of the unborn child, she first feared her unborn would have "heart problems," because according to her doctor they detected a "skipped beat," but later she was told the unborn child's heart was fine and was also happy to hear that her unborn had "a penis!"
Check out Kourtney Kardashian and Kendra Wilkinson-Baskett both pregnant on the cover of Us Weekly along with behind the scenes video footage.