Jamie Foxx Nude Pictures Wearing Do-Rag Naked With Camera (Photos)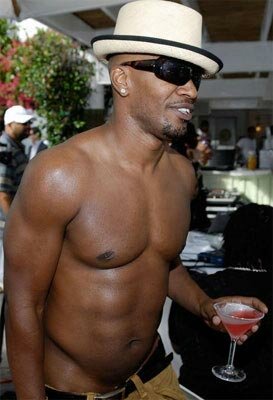 Singer and actor Jamie Foxx nude photo hits the Internet, shows him naked holding a digital camera. — After news of the 'Blame It On The Alcohol' singer, actor and producer Jamie Foxx having a second child was revealed by former co-star Garcelle Beauvais of 'The Jamie Foxx Show' on the 'Wendy Williams Show' on last week, it seems that a naked picture reportedly of the singer and actor has put the interest in knowing who the baby mama is to rest for the meantime.

Over the weekend, a nude picture of the actor and singer hit the Internet showing someone who looks to be Jamie Foxx fully unclothed wearing nothing but a do-rag in a self-portrait picture taken from a digital camera in what looks to be a bathroom.
Meanwhile, many believe that the photo is actually of him since Jamie Foxx reps have requested the photo be removed claiming that the photos were Jamie Foxx's property and supposedly for a movie role.
Jamie Foxx's naked photo follows behind other celebrities such as Vanessa Hudgens and Ashley Greene who happened to get leaked online in the past week.