T-Pain 'Gets Down' With Sexy Miami Dolphins Cheerleaders! (Photos)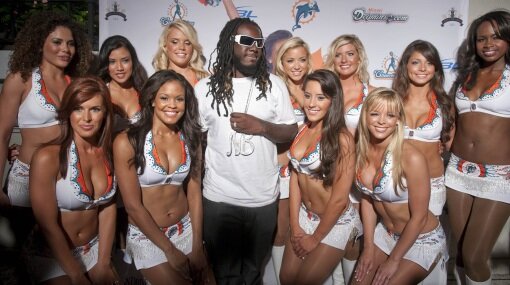 Rapper T-Pain helped the sexy Dolphins Cheerleaders recently unveil their 2010 Swimsuit Calendar at an extravagant fashion show at Casa Casuarina in Miami Beach on Ocean Drive. The Calendar which features Monica Mason, Johanna Torres, Amy Madill and Fabiola Romero on the cover show the sexy four women in two piece swimsuit bikini sets. During the occasion, singer/rapper and music producer T-Pain performed his remix of the "Miami Dolphins #1″ official fight song as the cheerleaders performed a dance routine.

Prior to them performing their dance routine, the group of 41 women walked the runway in colorful masks, body paint and fringe swimwear ensembles put together by two cheerleaders on the squad, Tiffany Pearl and Brittany Marlowe, who are aspiring fashion designers who used swimwear from different boutiques and accessorized them.
Meanwhile the calendars are available at Borders, Barnes and Noble, Amazon, amongst others.
Check out photos of T-Pain and the 41 sexy ladies of the Miami Dolphins Cheerleaders.