Fat Joe Denies Stealing Royalities, Big Pun's Wife Responds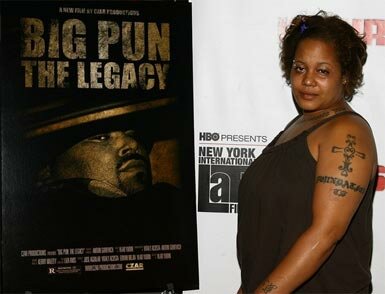 Rapper Fat Joe of Terror Squad has responded to claims that Big Pun's widow Liza Rios and children are homeless and living in a shelter because he [Fat Joe] has denied the family's royalties from Big Pun's publishings.

In an interview with radio hosts Pete Rosenberg, Cipha Sounds and K. Foxx on New York radio station Hot 97, rapper Fat Joe claims that Big Pun's widow Liza Rios has been paid for publishing and needs to get a job like everyone else because she has had far enough time to do something for herself and her children.
"People are not going to be sorry for you, because you're Big Pun's wife forever," Fat Joe says he told Rios and added that he encouraged her to find employment or a business to operate of her own doing something she enjoys.
"I'm gonna get you some money. What do you like to do?" rapper Fat Joe says he asked of Rios.
"She [Liza Rios] tells me she likes to do hair, so I say why don't you go to school for doing hair and maybe you can open up 2 or 3 beauty salons and continue to support your family because no one is gonna continue to pay your bills because you're Big Pun's wife."
Fat Joe goes on to say that though he helped Rios, it's not something that someone should continue to do and claims that he did not get any money from Big Pun's royalties which went to Rios.
Shortly following Fat Joe's interview with Hot 97, Liza Rios, herself, spoke with Hot 97 responding to Fat Joe's claims.
Rios called in to the show after hearing Fat Joe's interview which she calls "entertaining" and states "I didn't ask him to do anything."
Then going on to respond to Fat Joe's claim that she needs to get a job, Liza Rios claims she has worked, didn't tell Fat Joe about doing hair and has survived for 10 years plus.
Liza Rios went on in the interview to warn fans that when they buy the upcoming album from Sony of music used in Big Pun's documentary it will not go to supporting Big Pun's family and claims that she just wants the fans to know that she is not getting the millions that a lot of people are thinking she has gotten off of Big Pun's royalties.
Later, Rios responded to Fat Joe's claims that she was slandering Big Pun's name by saying he abused her and says she was only expressing her experiences and realizes that a lot of people don't know the personal details including the fact that Big Pun himself was abused as a child.
Toward the end of the interview, Liza Rios goes on to encourage fans to purchase the upcoming DVD film documentary of her husband Big Pun entitled "Big Pun: The Legacy" which is slated for release on September 15th.
Check out Fat Joe's interview on Big Pun's wife Liza Rios and Liza Rios response to Fat Joe's interview.