Kourtney Kardashian Is Finally Happy With Her Sexy Boobs! (Photos)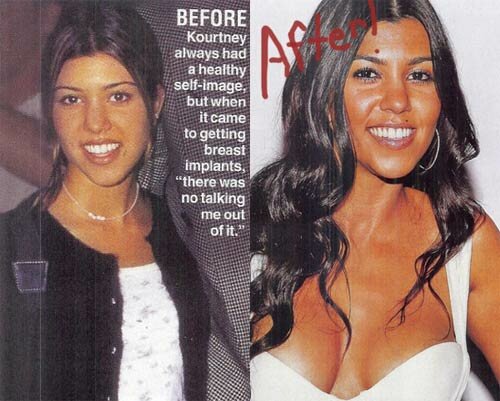 Kourtney Kardashian, one of the sexy Kardashian sisters of the reality television show 'Keeping Up with the Kardashians,' says she is finally happy with her breasts!

The sexy model and part business owner, along with sisters Kim Kardashian and Khloe Kardashian, of both the DASH store in Calabasas, CA and another in Miami, Fl, recently spoke openly about getting a boob job when she was just the sweet tender age of 22.
"It's the first time I've really talked about it openly," revealed a once shy Kourtney who now wants to share her experience of going from a small B-cup breasts up to C-cups size.
"I look at my before pictures and my boobs were so cute," stated Kourtney who was first remorseful about getting her boob job and, at first, wanted to actually have the job undone. "[My Boobs] were perfect," Kourtney added.
But now, the celebrity TV star and business woman who claims she was never "insecure" about her "breast size" or her "body" but simply got the idea in her head one day to get the boob job and no one could talk her out of it, claims that though if she would have researched more back then she wouldn't have gotten the boob job, she is now happy today with her breasts.
In related news, Kourtney Kardashian along with sister Khloe Kardashian, are set to kick off their new reality TV show 'Kourtney and Khloe Take Miami' on E! this Sunday, August 16 at 10/9 CST. Check out the trailer here.

Check out the photo images of more of Kourtney's breasts/interview with Life&Style Magazine below: