Nicki Minaj Says She Wants To Turn Foxy Brown Out!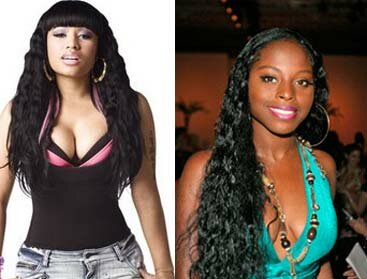 Brooklyn's rap artist Foxy Brown and Queen's rapper Nicki Minaj, affiliate of Lil Wayne's Young Money Entertainment, can be seen in a video that surfaced on the Internet talking about one another when Nicki Minaj candidly stated that she was going to 'turn Foxy Brown out' because she was looking so 'succulent!'

The female rappers were talking about the Industry and how the up and rising Nicki Minaj is doing things on the scene and was glady co-signed and encouraged by Foxy Brown to work with Lil Wayne and compared the two of them to herself and Jay-Z back in the day.
While in the midst of the interview, Nick Minaj made the statement that she was going to turn Foxy Brown out followed by laughs hinting that her words were a joke or just for fun. Reportedly, Foxy Brown, for some reason, did not want the video to get out which possibly explains the reason why her face in the video was mostly edited out with mostly only the audio of Foxy Brown being heard.
In related news, Nick Minaj, herself, was on the other end of another female celebrity's desire — Amber Rose, Kanye West's girlfriend who been public about her bi-sexuality, made it clear that she wanted to have a bi-sexual experience with Nicki Minaj whom she compared to a Barbie doll, as reported on HipHopRX.com.
Meanwhile, check out the video and see for yourself the video of Nicki Minaj and Foxy Brown.