Rihanna New Haircut Photos: Shaved Head, Hairdo Like Cassie (Pictures)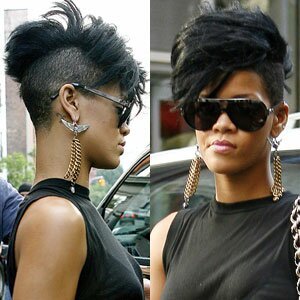 Pop star Rihanna was spotted out in West Village in Los Angeles sporting a new hairdo. The singer has shaved her head in a haircut something simliar to the shaved hairdo look of singer Cassie, as reported back in April on HipHopRX.com.

The Mohawk style fits Rihanna's attitude and character in some of her music, but will the fans think it fits her better than her previous style or will fans believe it takes away from her attractiveness as many fans who had mixed reactions about singer Cassie thought.
In other news, Rihanna is reportedly working a new album and this new haircut may be a sign of what to expect from the singer in the weeks to come.
Check out the new haircut of Rihanna in the pictures below.