will.i.am of Black Eyed Peas Called Racist For Lyrics In New Parody!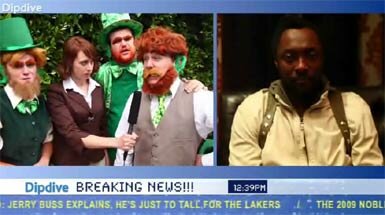 Following the controversy of the Perez Hilton incident, it seems that now will.i.am is now being tied into another controversial incident where the music producer is being called a racist in an unexpected community — the Leprechauns. In a new video comedy parody, presented by Dipdive, the Leprechaun community is boycotting will.i.am 'The Music Man' for his lyrics in the new song "Boom Boom Pow."

In the music video for the song, will.i.am can be seen rapping, "Beats so big, I'm stepping on Leprechauns" which outraged everyone in the Leprechaun community in which they requested an apology from the Black Eyed Peas member.
During a breaking news segment via satellite, will.i.am defended himself as not being racist in the video and told the Leprechaun's that he even eats Lucky Charms which one of the Leprechauns states, "Did he just question my sexuality," which may be taking an aim at celebrity gossip blogger Perez Hilton. During the breaking news scene, a ticker can be seen scrolling across the screen with the news headlines "Kobe Bryant Traded: Jerry Buss Explains, He's Just To Tall For The Lakers" followed by the headline "The 2009 Noble Peace Prize Was Awarded To Polo Molina, Better Known As The Undisputed Peoples Champ," which again may be poking fun at the accusation that he [Polo Molina] punched celebrity gossip blogger Perez Hilton, as reported on HipHopRX.com.
The last headline of the Dipdive breaking news ticker also poked fun at Alaskan Governor Sarah Palin with quote, "Governor Sarah Palin Has Resigned From Her Position As Alaska State Governor Just In Time For Wild Boar Season," possibly referring to the Governor's recent resignation news and her public love of hunting animals.
"I feel really bad if you guys feel hurt or something, it was just a fun lyric. Maybe we can make a song together. I be rockin them beats" says will.i.am later in his interview during the breaking news segment.
Following that, the Leprechauns asked for a recording deal and claimed that they all are rappers which will.i.am agreed to listen to their demo. Towards the end of the video, will.i.am can be seen listening to the demo when he's suddenly told of another possible community he has offended with his lyrics.
A bonus comedy parody is also thrown in of the Leprechauns in a part 2 video getting their swag on to the Black Eyed Peas song "Boom Boom Pow."