Singer Brandy's A Hip-Hop Lyricist! Raps Live On Cam; Preps New Album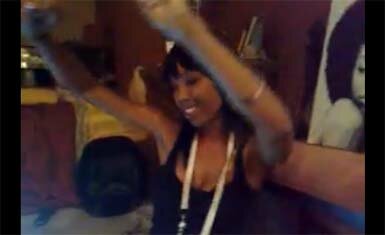 R&B music singer and actress, Brandy Norwood, one of the best-selling female artists in American music history as ranked by the RIAA, dropped a live cam video showing her skills, but not her singing skills — yet instead Brandy revealed her rapping skills and possibly what she may have in store for her upcoming album. The singer teases and says she's coming out with a rap album and then says she was just playing, it's just a hobby that she has and likes to do.

In part of the short video clip, Brandy raps, "Somebody give me some tissue, I got an issue I need to address/I'm up in a hot mess, like my jeans in a press/ I was the girl to impress, now I'm depressed, use to be stress-less, but now its more or less/ I'm sweating cold like a cold sweat, cool towel for my forehead, trying to get a head of pain so I can go ahead/I'm crying rivers and lakes and oceans, I got a notion to bury myself, I need some help to, its the worst I ever felt…"
In related news, Brandy has started work on her sixth studio album with her new label home, Epic Records, which is scheduled for release Fall 2009 or early 2010. The singer is stated to be working with The-Dream, Stargate production team, and R&B singer/songwriter Ne-Yo, amongst others on the unnamed album.
The latest track you can hear Brandy on is Mario's song entitled "Boom In It."
Meanwhile, check out Brandy (Ray's J big sister) rapping to her song "It's My Party" which had a piece of it leaked on the Internet recently, according to Brandy.