Mariah Carey Going After Eminem, Dissing Rapper In New Music Scenes?!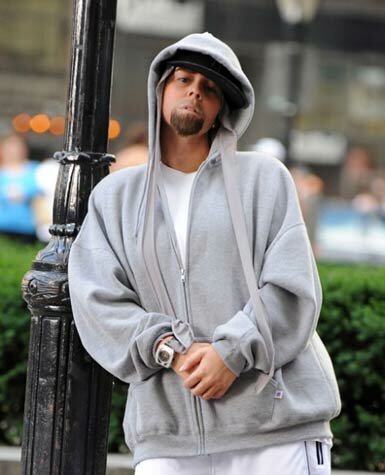 Mariah Carey, who is preparing to release her album "Memoirs of an Imperfect Angel" come August 25th, began filming a music video for her lead single "Obsessed" more than a week ago at the Plaza Hotel in New York City. In the music video, the singer and actress portrays two people, herself, a celebrity and a man (stalker) which everyone believes is a poke at Eminem due to the character sporting a grey hoodie that Eminem occasionally wears.

Now the question on the minds of others is — is this song an attempt to aim back at Eminem who has been dissing not only Mariah Carey, but also her husband Nick Cannon? Many blogs, websites and fans believe so.
For quite some time now, Eminem has endlessly made attempts to take a stab at the songbird when ever a chance comes his way and with the latest being on his album "Relapse" in the song "Bagpipes from Baghdad" which caused a stir online and words from hubby Nick Cannon in a public statement posted via his blog, as reported in detail on HipHopRX.com.
If you hear Mariah Carey's side of the story, Eminem seems to be exactly her song title "Obsessed." The singer even tried to be a comedian after she was questioned about Eminem's song with her response, "I don't eat candy."
The rapper has made claims throughout the years that the two (Eminem and Mariah Carey) had a fling, which Mariah Carey has denied repeatedly.
In the song "Obsessed," Mariah Carey sings that the person is delusional and must be losing their mind. "It must be weed, it must be the E…Why are you so obsessed with me? Lying that you're sexing me," which is most likely a response to Eminem's claim that he's been intimate with Mariah Carey.
According to Nick Cannon, the song is inspired by the movie "Mean Girls" in which one of the girls states, 'Why are you so obsessed with me?' In an interview with MTV, Nick Cannon stated that if anything, he thought it was about him because he is obsessed with his wife.
Until the video releases, check out photos from off the set and a behind-the-scenes video.