Lauren London, Rumored Pregnant by Lil Wayne, Photo'd at Diddy Party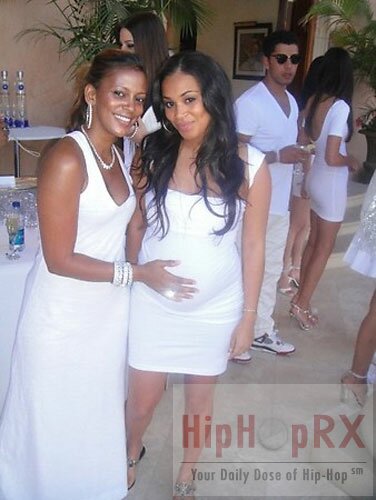 A very pregnant actress and model, Lauren London, was spotted out at Diddy's White Party on Independence day, July 4th, 2009 which was co-hosted with Ashton Kutcher in LA in a private location.

Lauren London is reported to be pregnant with her first child by rap artist Lil Wayne as well as singer Nivea who is also allegedly pregnant by the Cash Money Records hip hop artist and founder of Young Money Entertainment, Lil Wayne, according to a rumor, as reported on HipHopRX.com.
This is the first picture of a very pregnant Lauren London since the premiere of the movie "Next Day Air which photos surfaced of her only above the waist.
Other celebrities who showed their faces at Sean Diddy Combs 4th of July White Party were Chris Brown (pictured below) who danced as a tribute to the late Michael Jackson, Lindsay Lohan, Mariah Carey, Tyrese, Demi Moore, Lil Kim, Mel B, Meagan Good, Rev Run and Kanye West's girlfriend Amber Rose, amongst others.
During the party, Diddy who introduced a new drink "Simply Raspberry Lemonade with Ciroc," kept everyone updated on what was going on via his Twitter.