Dawn Richard and Que of Day26 Sexy Photos In Alter Egos (Pictures)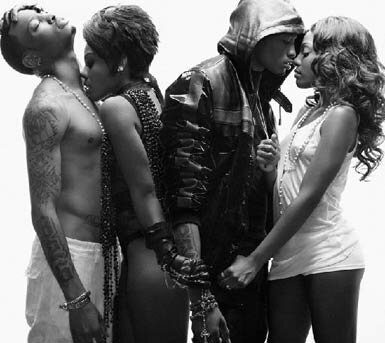 The hot couple Dawn Richard, 25, formerly of Diddy's Making The Band female music group Danity Kane and Qwanell Mosley, 20, aka Que, of R&B music group Day26, have been photographed in a sexy new photo shoot posing in alter ego characters.

In one look, Dawn is dressed somewhat like a dominatrix while taking control of Que who is bare chested only wearing white pants. In another look, the two are dressed completely opposite with their faces showing a more loving and intimate side of them.
The alter ego photo shoot which displayed the good side and naughty side of Dawn Richard and Que was taken by photographer Derek Blanks.
In other news, Dawn Richard is currently doing song writing as well as working with the group called Dirty Money while she preps to jumpstart her solo career.
Que who is a member of Day26 group released the album "Forever In A Day" on April 14, 2009. The latest single from Day26 to be released is entitled "Your Heels" in which a video for the song was scheduled to begin shooting on June 29.