Janet Jackson says Michael's Death Was 'Too Painful' For Family To Attend BET Awards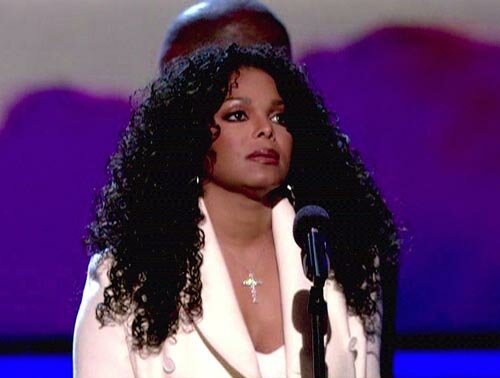 Michael Jackson's sister, Pop, R&B singer and actress, Janet Jackson and their father Joe Jackson attended the BET Awards on Sunday night (June 28, 2009) in Los Angeles at the Shrine Auditorium for a special tribute to the King of Pop, Michael Jackson, after his sudden death on Thursday, June 25, 2009.

In Janet Jackson's first statement and public appearance since the death of her brother Michael Jackson, the singer spoke on behalf of the entire Jackson family stating, "My entire family wanted to be here tonight, but it was just too painful, so they elected me to speak to all of you and I'm gonna keep it very short. And, I would like to say — to you, Michael is an icon. To us, Michael is family and he will forever live in all of our hearts."
Janet Jackson, although evidently devastated and heartbroken by her brother's death, stayed strong and continued with her speech, "On behalf of my family and myself, thank you for all of your love, thank you for all of your support. We miss him so much, thank you so much," as she waved out to the crowd holding her composure.
Joe Jackson, Michael Jackson's father who was seated next to Rev. Al Sharpton at the 2009 BET Awards, had stated earlier to CNN that he wished the world would have recognized Michael Jackson when he was living and that Michael's now even bigger than ever.
"Right now, he's bigger than ever. But I wish he was here to see all this, to hear all this," stated Joe Jackson.
Watch the video of Janet Jackson's speech at the 2009 BET Awards below as well as view pictures from the 2009 BET Awards Show:
More photos from BET Awards 2009 show.