Soulja Boy and T-Pain Backstage Using iPhone Autotune Application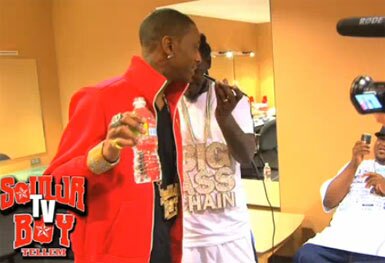 As Jay-Z raps 'D.O.A. (Death of Auto-Tune),' Soulja Boy and T-Pain with his 'Big Ass Chain' backstage brings out his iPhone autotune application.

While backstage, rap artist T-Pain talks Soulja Boy into doing a drop for him to showcase his application which he has done with other hip hop artists such as Ludacris, Shawnna, amongst others.
T-Pain and the software makers Antares are collaborating on the Auto-Tune application for the iPhone which will utilize the company's vocal software to pitch-shift your voice like on T-Pain's songs via your cellphone which can be used with some of T-Pain's beats.
Meanwhile, the application doesn't have a release date.
Check out Soulja Boy and T-Pain backstage.