Jay-Z Speaks On Soulja Boy, 'I Like Soulja Boy!'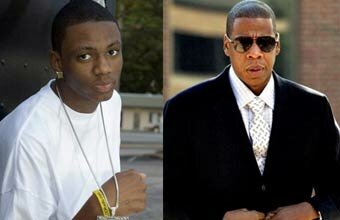 In a recent interview with Angie Martinez of Hot 97, rap artist Jay-Z revealed his thoughts about the state of rap and spoke on rap artist Soulja Boy aka Dre.

"… Of course, I mean even, I like Soulja Boy as well," stated Jay-Z in regards to the future of hip-hop.
As reported on HipHopRX.com, Soulja Boy in a recent interview with MTV, spoke about Jay-Z and how when he was younger, he couldn't understand Jigga, but now that he's older, he understands, likes and wants to collaborate with him.
"Jay-Z, I [Soulja Boy] always respected him. Always. But I didn't always like his music," Soulja Boy told MTV News.
"I guess because I was too young, and I couldn't understand what he was saying… I used to listen to a lot of Down South artists like Three 6 Mafia or Gucci Mane. But recently, since I'm older now and I grew up, I like Jay-Z now. I'm a fan of his music. At first, I used to just respect him because he was Jay-Z; now I'm a fan of his music and I wanna work with him."
In Jay-Z's interview with Angie Martinez, the rapper/businessman responded to Soulja Boy's statement stating, "He was young…."
"He makes records that are fun," Jay-Z added. "He's 17, 18 years-old… what are you going to talk about, selling drugs? He can't talk about that, that's not his experience. It wouldn't be authentic…"
Though Jay-Z reveals that he likes Soulja Boy, he goes on to say that it's not the music that he's into, so he couldn't listen to the album, he does yet enjoy Soulja Boy's newest chart-topping song "Turn My Swag On."
"I really like that record, I really enjoyed myself listening to that record, I can sing that record," stated Jay-Z.
During the interview, which was following the Summer Jam 2009, Jay-Z also spoke about his performance, his Blueprint 3 album, his new song D.O.A. (Death of Autotune) and more.
Check out Jay-Z's Hot 97 interview speaking about Soulja Boy.
[display_podcast]