Soulja Boy Test Drives New Microsoft Hands-free Gaming Concept at E3 Expo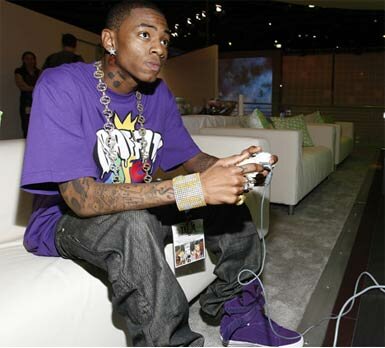 Rap artist Soulja Boy aka Dre got a chance to test drive the newest in a Microsoft high-tech gaming project at his recent visit to the Electronic Entertainment Expo (E3) at the Los Angeles Convention Center.

"Call me a nerd but every since I was a kid I always wanted to go to E3," revealed Soulja Boy. "I used to read about it in Gamer Magazines all the time! Now that I'm rich & famous and whatnot I finally got a chance to attend it and try out all the games, lucky me," Soulja Boy adds in regards to the video he released of his gaming experience.
In the video, Soulja Boy can be seen walking with E3 Expo guides as they entered an exclusive room where Soulja Boy along with the SODMG entourage got a chance to test Microsoft's Natal hands-free gaming controller which will work with every single Xbox 360 when it launches.
The E3 Expo took place from June 2-4 and will take place again on next year from June 15-17, 2010 at the Los Angeles Convention Center. The E3 Expo which is owned by Entertainment Software Association (ESA) is the premiere trade show for computer games and video games as well as a showcase for related technology.
Project Natal for XBOX 360