Kanye West and Amber Rose Still Together?! New Details Emerge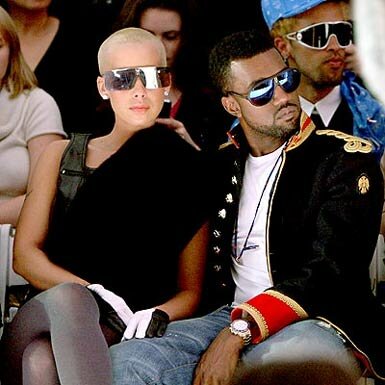 Contrary to reports that rap artist, music producer Kanye West and girlfriend, model Amber Rose have ended their relationship, new details that have emerged say otherwise.

The news which was reported by NY Post's Page Six claims that a spokesperson for Kanye West revealed to them that the couple was no longer a couple. This was reported back on Wednesday, June 10, 2009.
New details now hint otherwise. HipHopRX.com has learned that, one day before NY Post's report, the couple was photographed in an American Apparel store shopping which was confirmed by the American Apparel blog.
According to the following picture and the post on their blog, Kanye West was shopping for Rose at the NY1 Broadway store for a pair of sunglasses and purchased two Flex Fleece hoodies.
HipHopRX.com has also learned of more details that reveal that the couple was allegedly out later that night celebrating Amber Rose's new modeling contract with Ford Models according to a blog post by Fashion Journalist Derek Blasberg who, according the post, was with the couple that night.
So, are Amber Rose and Kanye West still an item? Time will tell.