T-Pain And His Big Ass Chain!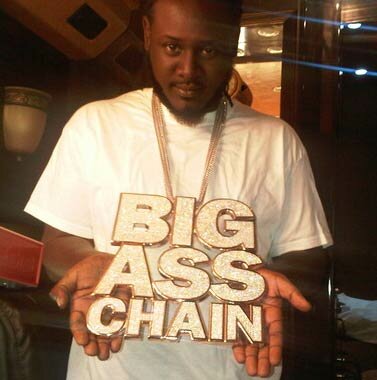 Producer, hip hop and R&B music artist T-Pain showcased his new jewelry in some new photos that hit the net over the weekend. The chain which carries the huge pendant like words "Big Ass Chain" reportedly weighs 10lbs, has 197 karats and costs an estimated $410,000 according to T-Pain himself.

"10lbs. 197kts. Very very real I don't know what fake feel like.$410,000. Hola señor recession proof. With 32 cars.Oldest child 5 and already got 4 million in her own account.I dont do dumb shit like this till I know the fams good. So don't judge me frm what I buy. Judge me frm what I do.Cuz it's so many artists that put themself before their family. but thanx yo"
In related news, T-Pain is currently working on a collaboration with hip hop music artist Lil Wayne entitled T-Wayne, as reported on HipHopRX.com.
Check out the photos of T-Pain and his "Big Ass Chain" below.