Tahiry, Rapper Joe Budden's Girl, Sexy New Photos: TahiryTv (Pictures)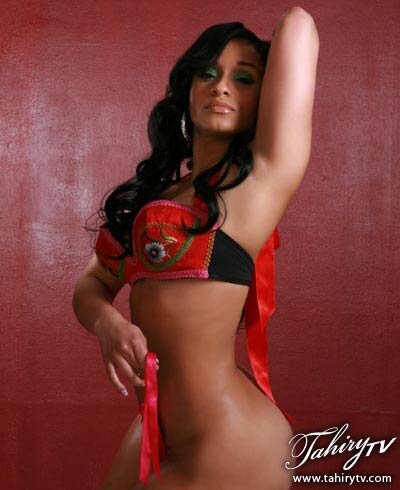 Model Tahiry, who's most known as the sexy curvaceous girlfriend (with the big booty) of hip hop music artist Joe Budden, is back in some sexy new photos!

Tahiry, who's also known for her sexy, half-naked photo shoot featured in KING Magazine's last issue where she graced the cover along with hip hop, R&B music singer Keyshia Cole, has dropped the new pictures in promotion of her new website, TahiryTV. Until it's official launch, the website is currently being hosted at Joe Budden's official site and blog, JoeBuddenTV, which itself just launched this year of '09.
In the new sexy pictures, Tahiry, can be seen lying half-naked on a leather couch in what looks like a lingerie underwear top and panties, which barely covers Tahiry's booty, which according to Tahiry's feature in King, she finds herself many times defending whether her "100% natural ass" is real or not.
"My ass is 100 percent natural. I feel like I have to walk around with my mother's picture and show people that people are born with asses like this," Tahiry is quoted as saying in her magazine photo spread for KING.
While Tahiry is lying on the couch half dressed in a couple of the photos, in another one or two of the new photos, Tahiry can be seen in a sexy red bra and panties outfit which she removes the bottom in one. Other sexy pictures show Tahiry dressed in a very short red bikini skirt which Tahiry can be seen pulling down the skirt in one photo revealing her lower pelvic tattoo and curvaceous figure.
There has been no official launch date announced as of yet for her Tahirytv.com website but it is expected to be launching on the internet soon.
See more of Tahiry's sexy pictures below: