Britney Spears Topless Photos Hit The Internet?! (Pictures)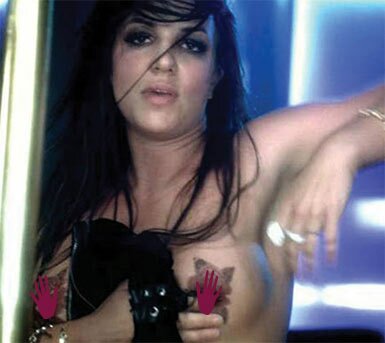 Pop singer Britney Spears who's currently on tour for her Circus Tour with Hip-Hop/R&B music singer and dancer Ciara as a supporting act, has new alleged topless photos caught on camera of the singer that have hit the internet.

Although the star took a break from her theatrical Circus tour to visit Maddox Club in London on yesterday (June 6), in which she dressed very casual, the half-naked photos that are reported to be of Britney Spears, shows anything but that.
The photos of Britney Spears, 27, are allegedly for the music video of her new song entitled "Gimme More" in which the singer can be seen dancing around a stripper pole topless with what is reported to be fake rose tattoos on her breasts much like an artistic nude photo.
In related news, the star has currently been performing in London at the O2 Arena and will next be visiting Manchester for her European tour which also includes Dublin, France, Belgium, and Denmark amongst others.
Check out more photos of the topless pictures reported to be Britney Spears from her music video Gimme More.