Joe Budden To Method Man and Busta Rhymes, 'I'll Back It Up… To Whoever'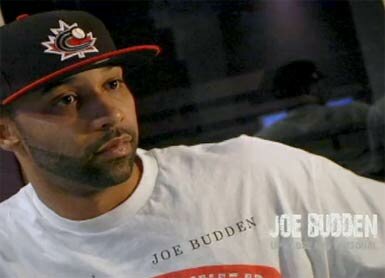 Rap artist Joe Budden responds back to everyone including hip hop music artists Busta Rhymes and Method Man who took offense to his video blog after giving his opinion on the Best Rapper Alive list, as previously reported on HipHopRX.com, in a recent Up Close and Personal interview.

"…I'm nuts," the rapper says which leads him to saying that he has faith in his pen game and how serious he is about being a rapper.
"If a n-gga get offended at me for having an opinion, suck a d-ck. I'm entitled to mine like you're entitled to yours, disagree. We can agree to disagree, that's number one. Number two what world are we in, we not rappers, we all rappers, some bigger than others, but we rapping. Let's rap. I wanna rap, I wanna always rap," Joe Budden continues.
"I have faith in my pen game and that's how it should be. If you're a rapper, I can't see how you wouldn't have the same attitude… If a n-gga say, Joe Budden, yo Joe Budden, you vs Eminem, who's gonna win? You know what I'm gonna say? I'm gonna say Joe Budden. I'm suppose to say that, even if it's the furthest thing from reality, you suppose to have the upmost confidence in yourself and your craft and if you don't then something is wrong with you and you're doing something wrong," says Joe Budden.
The rapper went on to say that he enjoys being the bad guy and doesn't give a f-ck and went on to listen to a clip of Method Man addressing his response.
"They keep talking about a door I'm running away from, and all of my actions say I'm running away. I've had offers from major labels. I don't want it, I don't want it," adds Joe Budden.
Joe Budden proceeds to point out that, if anything, Method Man is on the bench too and he's in the door that he wants to be in — and that's the bench.
As to getting his name out, Joe Budden emphasizes, "I could go diss Kanye West like all these other rap n-ggas be tryin do…. I could go diss Jim Jones, you could go diss Rick Ross …. n-ggas who are active and very very relavant today, they throwing these n-ggas off a diving board, something I wouldn't let them do to me."
Joe Budden then goes on to listen to Busta Rhymes response and addresses him and his comments which stated he should get slapped in the face, as previously reported.
"I'm talking about music and you're on a national broadcast talking about putting hands on somebody. That's the same thing that Star had that lawsuit against him for when he was on the radio ….. so now Busta Rhymes on the radio saying it's ok."
As the interview continues, Joe Budden says how much love and respect he has for Busta Rhymes and how what he [Busta Rhymes] said threw him for a loop.
The rapper goes on to end that he'll back it up to whoever and his opinions are his opinions and a preview is shown of what's coming in the next Joe Budden interview.
"I have a response to him, but my response gets under people's skin — when I talk, it bothers people — and I have a response, that if I said, he would really wanna put hands on me," ends Joe Budden.