Jay-Z and Eminem Contribute Music To DJ Hero Game For PS3, Xbox, Wii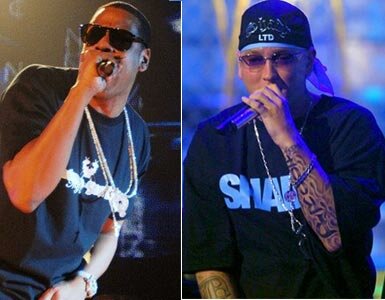 Hip Hop artists Jay-Z and Enimen will join DJ Hero which is based off the Guitar Hero platform by contributing some of their most popular songs for a special branded edition of the music video game. The special edition version of DJ Hero will include an advanced version of the turntable controller, a metal traveling case that transforms into a DJ stand and two exclusive music CD compilations featuring greatest hits and new mixes from each artist, amongst other things.

In the new game DJ Hero gamers will be able to produce original mixes of popular songs and music from a number of other DJ's and artists from around the world ranging from hip-hop, R&B, Motown, electronic, and dance genres.
In addition to providing music for the video game, Jay-Z and Eminem will also both be providing downloadable content which is expected to be available sometime later this year with fresh mixes of their material.
Jay-Z states that DJ Hero is the first video game to allow everyone to create a unique environment as Eminem spoke on DJ'ing being an essential part of hip-hop.
"A DJ has the ability to use music to control people's emotions and is responsible for the entire vibe of a room, a club or a party. DJ Hero is the first video game that allows everyone to enjoy the unique experience of creating that environment," said Jay-Z in a statement.
"I came up doing freestyle battles on local stages with other MCs and DJs. DJ'ing is an essential part of hip-hop and DJ Hero will give people all over the chance to experience the music from the other side of the turntables," states Eminem in a statement.
DJ Hero is a music video game developed by FreeStyleGames and published by Activision. The game is expected to release October 27, 2009 for PlayStation3, Xbox 360 and Wii gaming platforms.
Other games expected to release this Fall by FreeStyleGames is the 5th version of Guitar Hero (Guitar Hero (R) 5) which is scheduled for a September 1, 2009 release and Band Hero(TM), an all-ages, family-friendly series were multiple players can play either on the guitar, drums, bass, and microphone which is also expected to release later this year.
In related news, only a day after Eminem performed at the MTV Movie Awards, both Eminem and Jay-Z joined the stage at the launch party for DJ Hero on Monday in which the two traded verses on the track "Renegade." Prior to performing together, Jay-Z performed a mini-set of his hits which led to him being joined by Eminem and finally Eminem performing his own set.