Titans NFL Star Vince Young, 'Makes It Rain' With Rapper Nelly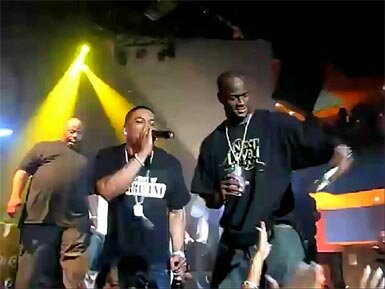 Tennessee Titans NFL star Vince Young was on stage at an entertainment event for the NFL star's recent celebrity birthday bash, and joined hip hop artist Nelly of the St. Lunatics on the stage 'making it rain.'

As seen in a video, Vince Young joined Nelly onstage, and while the rapper was in the live performance, the Tennessee Titans quarterback 'showered the crowd with dollar bills.'
The performance and event took place in Houston and unlike former Tennessee Titans teammate Pacman Jones, who was also in the news before for 'making it rain' at a club where violence allegedly broke out, there was no reported violence at this event, according to TMZ.

In related news, St. Louis rapper Nelly's half-brother who Nelly wore his infamous band-aid in honor of and who was reportedly locked up for 9 years, according to Nelly in the video, is out of prison for an alleged assault — and was brought on stage during the concert by Nelly and introduced to the crowd as coming out with a new album soon.
Meanwhile, rapper Nelly's fifth studio album Brass Knuckles was released in stores September 16, 2008 and the rapper is reportedly working on a collaborative album with St. Lunatics entitled "City Free" which is expected to drop this year.
Check out the video below of Tennessee Titans NFL quarterback Vince Young 'making it rain' at Nelly's concert while he performs his song Tip Drill and introduces his younger brother.
For better audio, watch this longer version of Tennessee Titans NFL Star Vince Young's celebrity Birthday bash, including the Nelly performance (@ 1:45 sec.) and more footage, plus a brief interview with the rapper (@ 7:35 sec.).