CoCo Is Back As Marilyn Monroe (Pictures)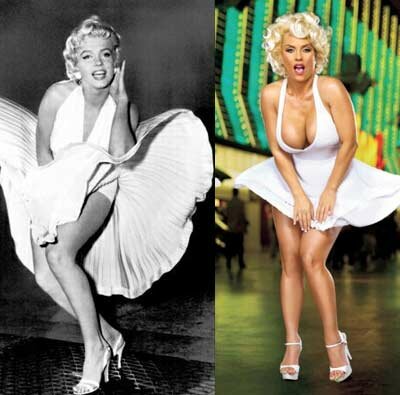 Model Nicole Austin aka CoCo, wife of hip-hop artist and actor Ice T, is back in a new photo set wearing and posing in a white dress being blown up revealing her sexy legs while trying to hold the dress down over her underwear in the pose made famous in the 1950′s by the famed model and actress Marilyn Monroe.

In her new photos, CoCo can be seen wearing the white dress similar to the famous white dress worn by Marilyn Monroe in the 1950′s play and film classic "The Seven Year Itch."
CoCo's photo rendition of the Marilyn Monroe classic photo is maybe a sign that the model is a fan of the famed actress who's also known for her popular Playboy spread which appeared in the first issue of Hugh Hefner's Playboy magazine in December of 1953.
CoCo too also appeared in Playboy magazine in March of 2008.
Check out CoCo's Marilyn Monroe pictures below.