NFL Star Michael Vick Out Of Prison, To Team With Humane Society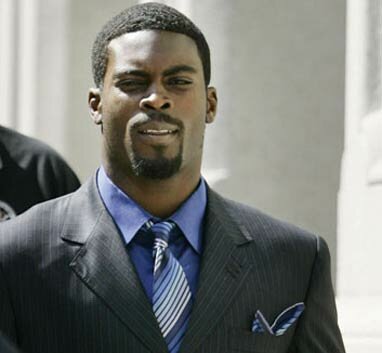 Suspended NFL quarterback, Michael Vick, 28, of the Atlanta Falcons has been released from prison after being convicted for running a dogfighting operation in 2007. In August of 2007, the football star plead guilty and surrendered to federal authorities on November 19, 2007.

Michael Vick was released early this morning from federal prison in Leavenworth, Kansas at around 5 am in which he was greeted by a swarm of media which he avoided by leaving through an alternate entrance. Michael Vick will be going home to complete his final 2 months of a 23 month sentence under house arrest in Virginia and will also be starting a new job as a construction worker with a pay rate of $10/hr a week from today.
In addition to home confinement, Vick will also be on supervised probation for 3 years and will possibly have a program with the Humane Society of America in which he will be educating and reaching out to teens on dog fighting.
Meanwhile, as Michael Vick prepares himself for home confinement and a new job, NFL Commissioner Roger Goodell is stating that Vick will have to demonstrate genuine remorse to be reinstated back into the NFL.
As previously reported, PETA (People For The Ethical Treatment of Animals) was urging that the suspended NFL player be checked for a brain disorder. The organization wrote to the NFL following a USDA report indicating that Michael Vick has characteristics that fit the profile for serious antisocial personality disorder.