Rapper T.I.'s Prison Time May Be Shortened From 1 Year To 2 Months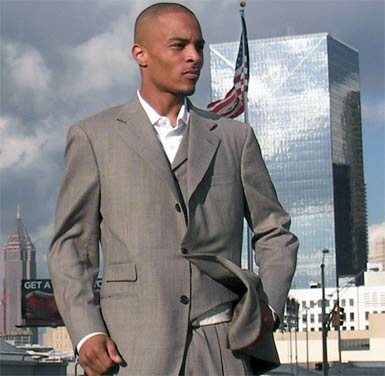 Rapper T.I. born Clifford Harris, Jr.'s time may be shortened when he does his prison time at a low security facility in Forest City, Arkansas come Tuesday, May 26th, 2009.

According to reports, since the rapper has completed 305 days of home detention he will be credited for time-served where his expected time of one-year and one-day may be chopped down to allegedly two months.
Previously, T.I. would have faced 10 years in prison, but a plea deal was made instead, in which the rapper had to commit to 1,000 hours of community service before sentencing (March 27, 2009), pay a $100,000 fine, and agree to complete another 500 hours of community service after his time behind bars was completed.
Rapper T.I. is accused of attempting to purchase a quantity of weapons from undercover agents back on October 13, 2007 which is a federal charge. Agents claimed that T.I. took delivery of three machine guns and two silencers from a bodyguard who was cooperating with ATF (Bureau of Alcohol, Tobacco, Firearms and Explosives) after trying to purchase guns from an undercover ATF agent.
As far as T.I. having it easy, prison spokesperson R.D. Weeks, told Associated Press, "Unless there are custody or security concerns, all incoming inmates are placed in general population."
Following T.I.'s release from prison, the rapper will remain on supervised probation for three years and pay fines in the amount of $100,000.
According to David E. Nahmias, United States Attorney for the Northern District of Georgia, "His [T.I.] prison sentence was reduced from what it might have been, but the public got something very significant in exchange: the extensive and unique community service program that Mr. Harris [Clifford Harris, Jr aka T.I.] committed to doing when he pleaded guilty. By all accounts, his community service has been a remarkable success – it certainly exceeded our expectations – and there is still more to come when he gets out of prison."
In other news, as previously reported, T.I. along with rapper Lil Wayne both lead in the 2009 BET Awards with five nominations each in four separate music categories.
The rappers are nominated in the categories for Best Male Hip-Hop Artist, Best Collaboration, Video of the Year, and the Viewer's Choice award category.
In the pre-mentioned categories, the rappers are joined by hip hop artists and R&B artists such as Rick Ross, Kanye West, Young Jeezy, Jamie Foxx, T-Pain, Jim Jones, Beyonce Knowles, Rihanna, Keri Hilson, Yung L.A., Soulja Boy, and others.
The BET awards is scheduled to air on television on June 28th at 8PM/7CST.