Hoopz Sex Tape Has 'Nikki' Alexander Fighting Mad, Literally!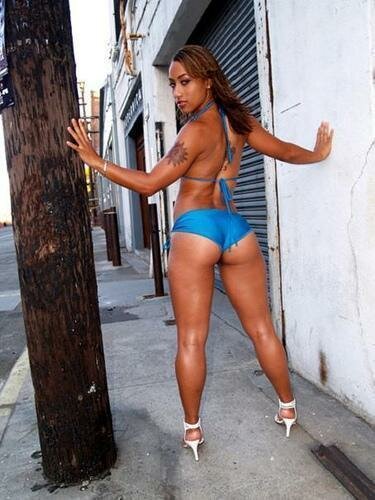 "You can't begin to imagine, unless it's you, I know alot of other celebrities out there went through the same thing," stated Nicole 'Nikki' Alexander aka Hoopz regarding the sex tape leaked on the Internet of her with a man that she claims she made a sex tape with from a relationship dating back 5 or 6 years ago.

Regarding how she found out about the sex tape, the reality television show "Flavor Of Love" and "I Love Money" winner and reality TV star states that she "had starting getting phone calls" about the sex tape.
"My phones just started blowing and that's how I found out. I mean, everybody just started hitting and I'm like What?!," stated Hoopz in a recent interview.
"You know I knew it was a possibility, because I had been getting calls about this, threatening calls, blackmailing calls… I mean it's been crazy," added Hoopz.
Then revealing that she had once made a sextape of herself and the guy of a previous relationship, Hoopz goes on to say:
"You know I didn't believe there was a tape, because I'm like "hold on" this is a 5, 6 years ago, you know, this is a previous relationship that I was in, before I was even Hoopz, you know before I was even who I was, and I'm like "hold on" the only tape I ever made was deleted — so I thought and I'm like ok if you got a tape go ahead and put it out," Hoopz said of her alleged challenge aimed at the party behind leaking her sextape video recording.
Well, obviously, a partial video clip of the Hoopz sex tape was leaked, as previously reported on HipHopRX.com, and Hoopz claims that she was offered money for the legal release of the videotape for entertainment which she claims she has denied the offer with a quote "kiss my ass" answer, because it was not the image she was trying to portray or make money off of.
Then later in the interview, Hoopz says "yes" it was her in the sextape video leak which she made with a previous boyfriend.
"Yes, it's me… it's like 5 or 6 years old. I thought it was erased, I thought it was gone, I thought it was no more and you now, being a normal person, I wasn't checking up on anything, like thinking that maybe this could come back on me," stated Hoopz hinting of her almost "naive" or should we say "innocent' or "trusting" mind frame at the time.
"I was just a normal person, you know and I sat there and watched him delete it or whatever so I thought and that wasn't it. He had other plans or — you know — we were in the process of breaking up, man it was crazy," stated Hoopz.
Then feeling somewhat 'crossed' or deceived of her 'innocence' or 'trust,' Hoopz decides to warn or rather 'provide advice' for other "ladies out there."
"To all the ladies out there … I'm not apologizing for having sex, I mean that's apart of everybody's life. I mean but at the same time have your fun or whatever and if you do make a tape, get possession of that if you don't want it to ever come back around, because obviously, in so many cases that we've heard of, it does," Hoopz says to other ladies who may find themselves in a relationship filming a sex video.
Then responding to the question of who offered her money, Hoopz goes on to say that the tape of her and her ex-boyfriend got "put in the right hands" because her ex-boyfriend lied to her saying someone broke into the house and took the tape, which Hoopz says she's not that "freaking stupid" or should we say 'naive' anymore.
The celebrity reality show star goes on to claim that she's gotten a lawyer to represent her in the matter of the sex tape, so she was limited on what she could say but did mention that he [the ex-boyfriend] probably got paid to put the sex tape into someone's hand.
Hoopz, though now going through a serious matter with the sextape and more, still doesn't regret having sex, or doing the sextape or making it to her celebrity status but did reveal she regrets "trusting somebody" she thought she was in a relationship with that she thought "got her back."
Hoopz claims that this [the Hoopz sex tape leak] isn't going to stop her but, instead it's going to make her stronger
or in her own words, make her a "monster."
Now, those are fighting words! No, literally!! Oddly enough, the stronger and "monster" statement coincide with Hoopz secondary or should we say 'next career move' revealed in the interview: a boxer.
Hoopz reveals that she is going to get into pro boxing, has "been training" and actually has a couple "amateur fights coming up," in plans to go professional, if "all goes well" because "as soon as [she] put those mitts on [she] fell in love with the sport."
"It's going great on that side of the business. I'm prepared to go.. 2 or 3 rounds. I'm just going in like Mike Tyson and getting the job done," added and warned Hoopz, the boxer.
Listen to the full interview with Hoopz regarding her sex tape leak and more.