Tila Tequila Pregnant By Someone 'Very' Famous in Hip Hop? Readies To Put Him On Blast!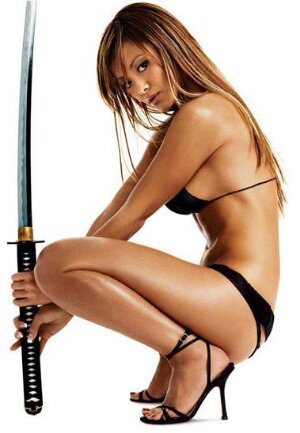 First we had celebrity photos naked week in entertainment starting with Cassie's naked pictures, then alleged Rihanna's nude photos leaked on the internet, followed by Meagan Good's nipple slip, now let's move on to 'hip hop gets celebrity pregnant' week.
First, this week, came news that hip hop artist Twista may have gotten porn star Pinky pregnant, now it seems that another celebrity star, Tila Tequila, may be pregnant by someone very or quote "very very very very very f-cking famous," according to a post made by the internet star, music artist and television host of MTV's reality television show "A Shot at Love with Tila Tequila."

Here is what Tila Tequila had to say, via her Twitter, that somewhat hints that she may be possibly pregnant by someone "very.." famous in hip hop:
Pt 2: Aside from that though….I have some huge news to announce that would SHAKE the whole country up, but maybe I shouldn't announce it (posted on 6:51 PM May 12th)

Pt 3: cuz if I tell people this….I'm telling you….it would just change EVERYTHING! Everyone will be VERY shocked…so Imma hush 4 now (posted on 6:52 PM May 12th)

Trust me, this is LIFE CHANGING and not a small thing. Even I was shocked when I found out….Let's all pray. Let's just say I got hip hop. (posted on 6:54 PM May 12th)

Someone is not stepping up the the plate…but it's all good. We all know I have more balls then you will ever have and your a man! Whatever (posted on 11:17 PM May 12th)

I guess it's true what they say. You are what you eat, and you sir, are a p-ssy. (posted on 11:17 PM May 12th)

I make my own m*thaf*&kin money, Im my own boss b*tch, so dont think I need you for anything. I will take care of it myself then. P*ssy. (deleted)

I'm talking about someone very very very very very f*cking famous! He is like A-list famous and you follow him on twitter too. (deleted)

All I know is if this m*therf*$ker doesnt step up soon Im gonna have to go to the media and put him on blast. imma give him 1 chance step up famous (deleted)
As you'll notice, some of the Twitter posts are labeled (deleted) to signify that those are posts that Tila Tequila may have removed after hearing of the reports that broke today about her possibly being pregnant. Some of the deleted posts were confirmed at Celebrity Tweet.
Hinting of a possible reason why some of the posts may have indeed been deleted, Tila Tequila's last post after May 12th was on the next day May 13th at 8:59 AM when she posted the following:
Damn…Twitter can be fun as hell or it can also be a freakin nightmare! You take full responsibility for what you say on here! LOLL….damn
Following the May 12th Twitter rant, Tila Tequila, later that day on the 13th, posted about visiting the doctor, hinting again at a possible pregnancy.
Anyways, Im sorry if I worried everyone last night with my tweets..but my life just changed and I got to figure this out. Going 2 doctor now (posted on 9:26 AM May 13th)

Just got back from my appt…..oh boy….. (posted on 12:46 PM May 13th)
Then Tila Tequila jokes around and states, "@hiphopmomma hahahah! Thanks "Tupac" that's the baby daddy right there…..," at 2:59 PM on May 13th.
Now, on today (May 15th), Tila Tequila seemed to have gotten very angry at the media and the mystery man behind her rants.
Tequila started posted the following starting around 9:00 PM tonite:
THANK YOU EVERYONE FOR BEING ALL UP IN MY SHIZZZZ….IM GLAD I CAN PUT YOUR WACK ASS NAME IN THE PRESS OFF OF MY EXPENSE….CHEERS! xox (posted on May 15th)

There is only ONE man who is really a man that I have grown to admire and respect amidst all of this BS. As for the p-ssy. U still a p-ssy. (posted on May 15th)

AND MARK MY WORDS, YOU WILL NEVER BE AS MAN AS I CAN BE! YOUR A WEAK BITCHASS BABY..STARTING SH-T YOU CANT FINISH. F-CK U! U KNOW THE TRUTH (posted on May 15th)

YEA AND YOU BETTER CALL YOUR F-CKEN MAMA CUZ SHE NEED TO TEACH YOU HOW TO BE A REAL MAN! PEACE OUT BITCH…THIS WOMAN GOT REAL SH-T 2 TEND 2 (posted on May 15th)

IT WAS FUNNY AT FIRST BUT NOW THAT SH-T IS GETTING 2 REAL THIS IS NOT SOMETHING U CAN DISRESPECT ME ABOUT IN PUBLIC U PIECE OF SH-T! F-CK U (posted on May 15th)

ALL I HAVE TO SAY IS "IT TAKES 2 TO MUTHAF-CKING TANGO" NOT ONE…TWO! THAT EQUALS YOU BITCHASS BABY MUTHERF-CKER! (posted on May 15th)

I AM CLEARING THE AIR RIGHT NOW SO EVERYONE CAN SHUT THE F-CK UP: P.DIDDY IS NOTHING MORE THAN A GOOD FRIEND. I HAVE SO MUCH RESPECT FOR HIM (posted on May 15th)

AND I REALLY LOOK UP TO HIM! I WOULD APPRECIATE IF THE MEDIA WOULD STOP THROWING HIS NAME IN THESE STUPID RUMORS! I RESPECT HIM SO MUCH (posted on May 15th)

AND HE IS AN AMAZING FRIEND THAT I WILL ALWAYS LOVE AND RESPECT! SO PLEASE LEAVE HIS NAME OUT OF THIS CUZ THE MAN DESERVES RESPECT! (posted on May 15th)

SO NO MATTER WHAT ANYONE WANTS TO SAY ABOUT HIM…I GOT HIS BACK N WILL BACK THAT HE IS A GOOD PERSON WHO I LOOK UP TO! NOW LETS STOP THE BS (posted on May 15th)

AS FOR EVERYONE ELSE….STOP BELIEVING SHIT YOU READ ON GOSSIP BLOGS! UNLESS YOU HEAR IT FROM ME PERSONALLY, U CANT BELIEVE THAT SHIT! (posted on May 15th)
So, who is "very very very very very f-cking famous" that may have gotten Tila Tequila pregnant and has the sexy star so upset? Names thrown around so far on the internet include Diddy, which she seems to bluntly deny, Russell Simmons, and Ray J, which Ray J, is by far the most suspect as of this week because HipHopRX.com reported back on Tuesday (May 12) that Joanna Hernandez, aka Cocktail, winner of the reality TV show "For The Love Of Ray J," was taunting Tila Tequila who was rumored as dating R&B singer Ray J. Cocktail, in the videotape, tells Tequila to quote "step off" her man, Ray J.
Well, only time will tell, as Tila Tequila awaits the response of the mystery man she wants to "step up soon" or she'll quote "put him on blast!"
Want more Tila Tequila pictures?