Hoopz Sex Tape Scandal, It's Heating Up and Now It's Got A Whole New Social Frenzy 'Poppin'!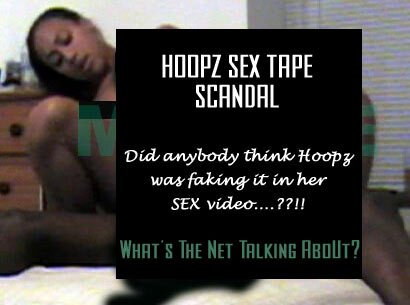 Nicole 'Hoopz' Alexander's sex tape is the newest and hottest entertainment topic circulating the social networks worldwide. A quick search on recent discussions of any social networks, message boards, or even on the social micro-blogging crazed site Twitter, will immediately bring up results of conversations about the reality TV winner of VH1′s reality television shows "Flavor of Love" and "I Love Money," Nicole 'Nikki' Alexander aka Hoopz.

One, in particular, phrase is the now infamous post of "Hoopz sex tape entire video" or "Hoopz sex tape full video" followed by a link which of course will lead you only to someone's Myspace page, YouTube video, personal profile or other promotion that they simply want people to click through to. So don't be surprised if you follow a link expecting to see the full blown video of the Hoopz sex tape which, by the way hasn't released yet, but end up only seeing nothing but a profile of a starving Myspace artist who wants you to hear his/her music or a YouTube video of an amateur music video, or just a bored individual's twisted idea of a joke.
Leaked on the internet following Cassie's naked pictures leak, then Rihanna's alleged naked photos, the Hoopz sex tape, confirmed by Hoopz herself as real, combined with the new photo of Meagan Good's nip slip and the leaks of Cassie and Rihanna, is a sure attraction-getter to conversation in any social forum.
Here are just a handful of some random Twitter conversations:
"All these sex tapes w/RhiRhi,Hoopz&Kelis make me wonder who tape DONT u wanna see,cause if star jones comes out w/one Im pokin my eyes out!"
"Ladies out there that have dreams,and u get fame out of it, DONT THROW IT AWAY!(like danity kane,hoopz,saaphyri,and others)"
"Anybody heard from Ray-J?? haha been a little quiet, probably thinkN up another Sex Tape Master Plan w/Hoopz!"
"I'm gonna go play hoopz, anyone wanna come?!"
"Any famous women been gettin naked today? Thus far we got Cassie, Rihanna, Hoopz, theJessica Biel vid, & Miss CA…who's next?! Naked 09!"
"I wanna see the new hoopz sex tape.(for research purposes only)"
"Did anybody think Hoopz was faking it in her SEX video or was it just me"