Cassandra 'Cassie' Ventura Exposed; Topless, Nude Photos Leaked Online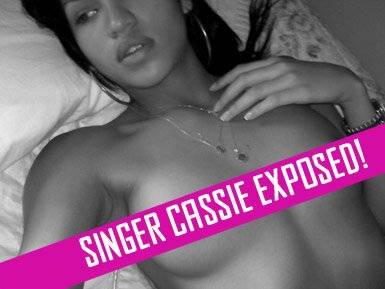 Nude photos of singer Cassie, real name Cassandra Ventura, 22, have leaked online of the singer lying topless in the bed in a seductive position with an alluring look on her face as if taking sexy, personal pictures for a significant other via a webcam or camera phone.

In the nude pictures of Cassie, the singer can clearly be seen naked from the waist up, lying on the bed, with an alluring look on her face, and nipple piercings on her bare breasts.
The Diddy protege who was previously in headlines for exposing her head when she cut half her hair off, is now in the headlines for the pictures exposing her bare breasts that have fans shocked to see the singer naked, while Cassie seems to think it's not a big deal.
"IT SEEMS THAT SOMEONE HAS HACKED INTO MY COMPUTER…THAT'S REAL FOUL AND EVIL. NOW STOP ACTING LIKE YOU HAVEN'T SEEN A TITTY BEFORE," the singer had to say via her Twitter.
Following that, Cassie posted the following statement on her official website:
The recent personal pictures that have been leaked on the internet of me were hacked and stolen out of my computer. These photos were obviously never intended for the world to see and it's sad that people would really take time to steal and post them, it's just evil. At the end of the day breasts are breasts, mine weren't the first you've seen and they won't be the last… people need to grow up, let's move on. Thank you.

Cassie
Cassie, who's most known for her 2006 hit song "Me & U," is currently planning a new video shoot with Diddy, over the weekend in promotion of her official first single entitled "Must Be Love" off Cassie's second studio album, tentatively titled "Electro Love," scheduled for a 2009 album release.