N.E.R.D's Pharrell Williams Gets Tattoos Removed With Laser Surgery?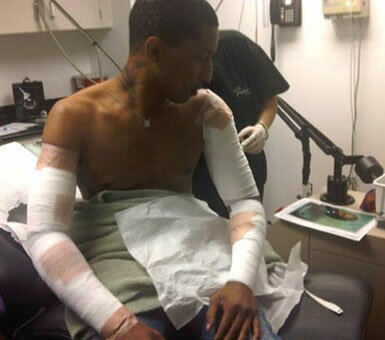 Pharrell Williams has decided he doesn't want tattoos anymore, or simply just doesn't want the ones he's removing anyway. Yes the Neptunes producer/rapper, lead singer and drummer of music band N.E.R.D, went under the laser in a surgery process to remove his tattoos from his body which is impaled in ink all over the his body, including neck, arms and back.

Th hint that the rapper was removing his tats came when he posted a photo on his Billionaire Boys Club blog claiming:
See, no skin graft here, just pure laser pain. This is our own version of Mythbusters! Laser is the new primer.
Skin grafting is one of several treatments used to remove large tattoos when skin from one part of the body is used for another part of the body covered with a tattoo.
In the photo, Pharrell Williams can clearly be seen covered in bandages as if just having his arm tats removed while getting something done to his back, possibly another tat removal.
"Laser treatment bitches! Extra crispy," Pharrell claims.