Danity Kane: The Naked Truth? Dawn Richard, D.Woods, Aubrey O'Day, Fimbres and Bex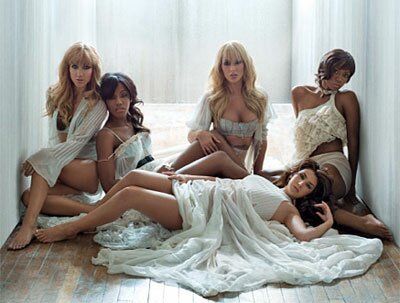 In case you haven't been following, group Danity Kane is officially disbanded and released of their Bad Boy recording contract as of April 2009 and now face career and personal choices outside of Danity Kane. But how did it go from a platinum selling group to this? Read as we'll attempt to take you through the somewhat naked truth of the rise and demise of Danity Kane and we'll tell you where the members are headed now.
Danity Kane, once a female singing quintet consisting of group members Aubrey O'Day, Wanita "D. Woods" Woodgette, Shannon Bex, Dawn Richard, and Aundrea Fimbres, all winners of Sean 'Diddy' Combs' "Making the Band" MTV reality television series, has officially been disbanded so what's next for the members?

The group, which signed to Diddy's Bad Boy Records, formed on the third installment of the reality TV show in 2005 and not much longer after that released their platinum selling debut album "Danity Kane," which topped the Billboard 200 albums chart at number one in 2006.
Following that, even before the group's next album released entitled "Welcome to the Dollhouse" featuring a sexy album cover of the group laced in all white, in Jan. 2008, rumors were circulating that group members D. Woods and most notably Aubrey O'Day were possibly leaving which would cause Danity Kane to split up. The rumors were denied of course since the creation of the group until around late 2008 when the group's trust issues with management and each other began to show in the Making The Band show episodes and in public.
Later that same year in Oct. 2008, Making The Band 4 would confirm the departure of O'Day and Woods.
Diddy's explanation for releasing O'Day was simple, "she was not the same person he signed" and was changed by the fame into someone he believed was more interested in gaining solo fame at the expense of the group. Meanwhile, O'Day denied Diddy's allegations claiming she was only being herself and 'keeping it real' and would rather be the person hated for being real than the person loved as Danity Kane for being something she was not. Diddy would later tell O'Day via satellite "..your attitude is gonna have you in a dark and lonely place" adding "What you need to do, at the end of the day, is humble yourself."
Nevertheless, Aubrey O'Day along with D. Woods were no longer apart of Danity Kane, and reportedly Woods began to work with another group, the Girls Club while O'Day began working on her solo album, which is still currently in works.
Meanwhile, O'Day would soon but later 'pop out,' literally, and pose for nude pictures in Playboy Magazine which thrusted the singer and reality tv celebrity back into the headlines and public eye.
Well now it's 2009, the year the group was to supposedly begin recording their 3rd album installment, but Danity Kane is still officially disbanded even after being invited back together to possibly band together as a group again, unfortunately, Dawn Richard and Aundrea Fimbres were the only two band members to show up.
Considering the story of D. Woods and O'Day, the reason was somewhat clear, but fans wondered about the remaining member Shannon Bex, and why she did not appear.
Nevertheless, following the no-show of members, founder and president Diddy would officially release the group members including Bex from their Bad Boy recording contract on the April 2009 episode on Making The Band 4: The Final Chapter where fans expected all Danity Kane members to show up and perform along with Day26 although Fimbres did not show because she had reportedly "had enough," according to member Bex. Bex herself would later state that her "personal choice" was nothing against the fans and the singer may possibly be pursuing a country music solo career.
Meanwhile, former Danity Kane member Dawn Richard, who has a highly publicized dating relationship with Making the Band group Day26 member Q (Que) and who recently mourned the loss of her grandfather as reported on HipHopRX.com, spoke with MTV regarding the finale stating "I'm happy with the positivity at the finale."
Dawn Richard, who was somewhat the last Danity Kane standing as she remained signed to Bad Boy as the only member still working with Diddy on music until the very end of the Danity Kane era, claims she didn't really know why she ended up being the only Danity Kane member left with a Bad Boy contract.
"I hung in there as long as I could," the former Danity Kane member stated. "I don't know those answers about why he chose me. I'm happy that he wanted to move forward with me," she revealed in her interview with MTV News.
"I was happy everyone moved forward. It was great," she stated regarding the reunion of Danity Kane on the Making the Band: The Final Chapter minus Fimbres. "Everybody looked beautiful," she added regarding her former bandmates. Regarding the absence of Fimbres, Richard stated "I didn't know, but I hope she's doing well."
Regarding all the members, Richard states, "I pray for the best on the other girls."
Former Danity Kane group member D. Woods also spoke recently regarding the finale claiming, "I think in this reality-show game you gotta be ready for anything. I'm coming in with my positive energy. I'm excited to let people know what I'm doing and where I've been. And that's really all I can plan for anything else I can't control."
As far as D. Woods' music career, the singer took her first solo step in a mixtape released on her MySpace entitled "Independence Day Mixtape Vol. One" back in February of '09.
Regarding why Diddy decided to release the group from contract and/or why he did not attempt to put together new members in the group, he states he did not want to put Danity Kane back together unless the group consisted of "all five original members."
As far as "Making The Band," fans should be expecting to see a possible new female group comprised of new music contestants as Diddy announced on Making The Band 4 Finale: The Final Chapter" he would be putting together a new group for a brand new season of "Making The Band."
Probably not all of what you expected to read, but that's the naked truth, at least, for now!