Shawnna and Ludacris "Gettin Some," With Shawnna Booty Shakin on Stage!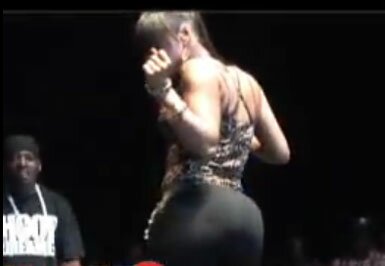 Rapper Shawnna's "got skills" that go beyond the microphone! In this video footage of the Chicago-bred female rap MC of Ludacris' Disturbing tha Peace Records (DTP), Shawna performs 'Gettin Some [Head]' with Ludacris while doing a sexy booty shakin' dance on stage!

The rapper outta Chicago is known for her hot single Getting Some, which is an obvious reference to oral sex, but it's just the 'tip of the iceberg' when it comes to the sexy female MC's sexual lyrics which she delivers with lyrical finesse and her sexual dance themes like seen in this past video performance of Shawnna's sexy booty clap dance while performing 'What's Your Fantasy' in which she showcases on stage with her curvaceous magazine cover-like body.
The single "Gettin' Some" which sample's legendary rapper Too Short's song "Blowjob Betty" and her "Gettin' Some Remix" featuring Ludacris, Lil Wayne, Too Short and Pharrell, both, come off Shawnna's Block Music Cd still in stores on Def Jam and DTP Records.
Watch Shawnna and Ludacris performing Gettin Some [Head] With Shawnna Booty Shakin on Stage!