Eminem's Relapse Album Cover Revealed!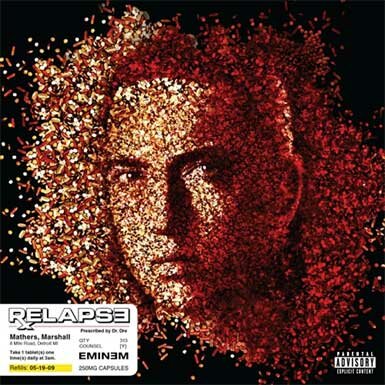 Eminem's CD cover art was revealed on today for the rapper's sixth studio album Relapse which is scheduled for release on May 19 in the US.

The album cover features the rapper in a resemblance of a mosaic portrait designed out of capsule pills and the word "Relapse" with a backwards "E" at the end and with the letter "x" under the "R" which spells out Rx (prescription) like the Rx in HipHopRx.com.
In addition to this, the cover bares a prescription label with the words "Prescribed by Dr. Dre" which includes a dosage of 250MG, quantity of 313, Take 1 tablet(s) one time(s) daily at 3 AM and the date for refills as 05-19-09 which is the release date of Eminem's album Relapse.
On April 7th, the rapper released the album's first single and video "We Made You" along with a music video which won over fans including celebrity socialite Kim Kardashian who the rapper made mention of in his comedy style video which took aim at a number of celebrities including Jessica Simpson, Lindsay Lohan, Britney Spears, Ellen DeGeneres, and Alaskan Governor Sarah Palin, amongst others.
As the date inches nearer, it can be seen how much fans are awaiting the release of Eminem's unreleased album due to it being ranked in the Top 50 of Amazon's Bestsellers in Music and being #1 in Pop Rap and #2 Rap & Hip-Hop.
Check out Eminem's album cover art for his Relapse album, again, scheduled to release May 19, 2009.

Enimen's "Relapse" Album Release Dates By Region
Italy May 15, 2009
Netherlands May 15, 2009
Brazil May 18, 2009
Denmark May 18, 2009
France May 18, 2009
Germany May 18, 2009
Portugal May 18, 2009
Sweden May 18, 2009
Russia May 18, 2009
United Kingdom May 18, 2009
Australia May 19, 2009
India May 19, 2009
Spain May 19, 2009
United States May 19, 2009
Japan May 20, 2009
Argentina May 29, 2009