Naked Picture of Amber Rose and Kanye West's Louis Vuitton Ad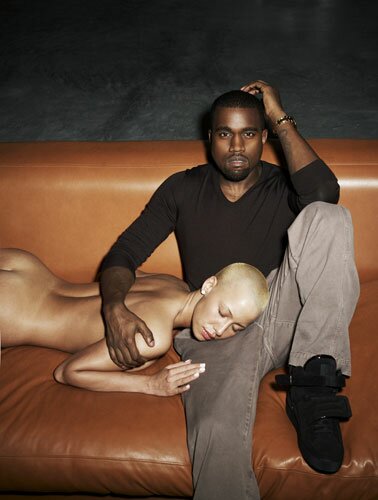 Kanye West and a naked Amber Rose have taken pictures for a supposed promotional ad campaign for French fashion designer Louis Vuitton's luxury fashion line.

While laying on the couch nude in nothing but her birthday suit and a diamond studded earring, Kanye West and sexy girl friend, model Amber Rose, who have been dating publicly since the beginning of the year, can be seen snugged up together with Amber Rose's head lying in her man's lap.
Sure, this may be the first time we've seen Amber Rose's butt cleveage, but it's surely not the first time we've seen Amber Rose half naked, which Kanye's girl, who's mostly known now for her relationship with Kanye, was first known for her appearances in music videos such as Ludacris' "What Them Girls Like," Young Jeezy's "Vacation," and for her very sexy, half-naked photo shoot for Smooth Magazine.
Check out the photos of a naked Amber Rose and Kanye West for Louis Vuitton's promotional ad campaign.